Parks & Places of interest in the SE25 area
With over seven local parks and spaces South Norwood has hundreds of acres of green spaces.
---
At 125 acres, South Norwood Country Park is the largest park in South Norwood.
The main entrance is on Albert Road and extends as far as Elmers End Road in the north east.
The park has three tram stops with the main one at Harrington Road - Route 2.
Facilities include: Pitch and putt, children's playground and a lake.
For further information please see www.friendsofsncp.org.uk
---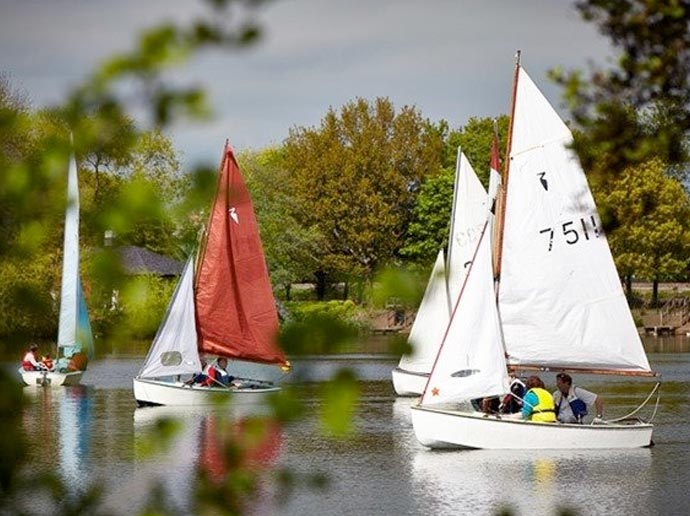 South Norwood Lake
The Lake and grounds of 28 acres, is one of the most relaxing open spaces in South Norwood.
The lake is man-made and was originally Norwood Common belonging to the Archbishop of Canterbury.
It was built as part of the Croydon Canal.
The main entrance is on Auckland Road with others on Woodvale Avenue and Sylvan Road.
Facilities include: lake with sailing (Croydon Sailing Club), fishing, basketball court, cricket wickets, tennis courts, bowling green, children's playground, trim trail.
---
Grangewood Park is an extensive woodland area situated on South Norwood Hill, London.
It is just off Ross Road and covers an area of 27 acres.
For more information visit www.grangewoodpark.co.uk
---
South Norwood Recreation Ground (Tennison Park)
At 14 acres, it has entrances in Selhurst Road, Tennison Road and Cargreen Road.
The grounds includes a sports area, football pitches, tennis court, floodlit courts, bowling green with pavilion and a children's playground.
The park is home to the South Norwood Festival every July.
---
Heavers Meadow
Heavers Meadow is a footpath through a flood meadow.
Norbury Brook runs north west along the bottom of the site before disappearing beneath Selhurst Road.
The brook reappears in Thornton Heath Recreation Ground and behind several private houses in between.
Area: 8 3/4 acres 3.34 hectares.
---
Brickfields Meadow
Brickfields Meadow is located at Dickensons Lane, Woodside.
Area: 4.37 hectares
Facilities: Large pond, Dipping platform, Buddleia valley, Grassland, Woodland, Children's play area, Picnic bench and seats.
---
Woodside Green
This area is a Village Green. The Tram service for the park stops at Woodside - Route 1/2. 
One of the earliest records of Woodside Green is in an indenture of 1662 which mentions "land lying up on a green called Woodside Green". 
The Croydon Inclosure Map of 1800 shows an area " Woodside Green".
---
Apsley Road Playground
Childrens play park and equipment.
---
South Norwood Pools and Leisure Centre
160 Portland Road, London, South Norwood , SE25 5A
Tel: 020 8662 9464
Monday - Friday: 6:30 am - 10:00 pm
Saturday - Sunday: 8:00 am - 5:00 pm
Bank Holiday Monday: 07:00 am - 4:00 pm
---
South Norwood Library
Selhurst Road / Lawrence Road , London, SE25 4QB
Tel: 020 8726 6900
Monday: 9:00 am - 6:00 pm.
Tuesday: Closed.
Wednesday: 9:00 am - 6:00 pm
Thursday: Closed.
Friday: 9:00 am - 6:00 pm.
Saturday: 9:00 am - 5:00 pm.
Sunday: Closed