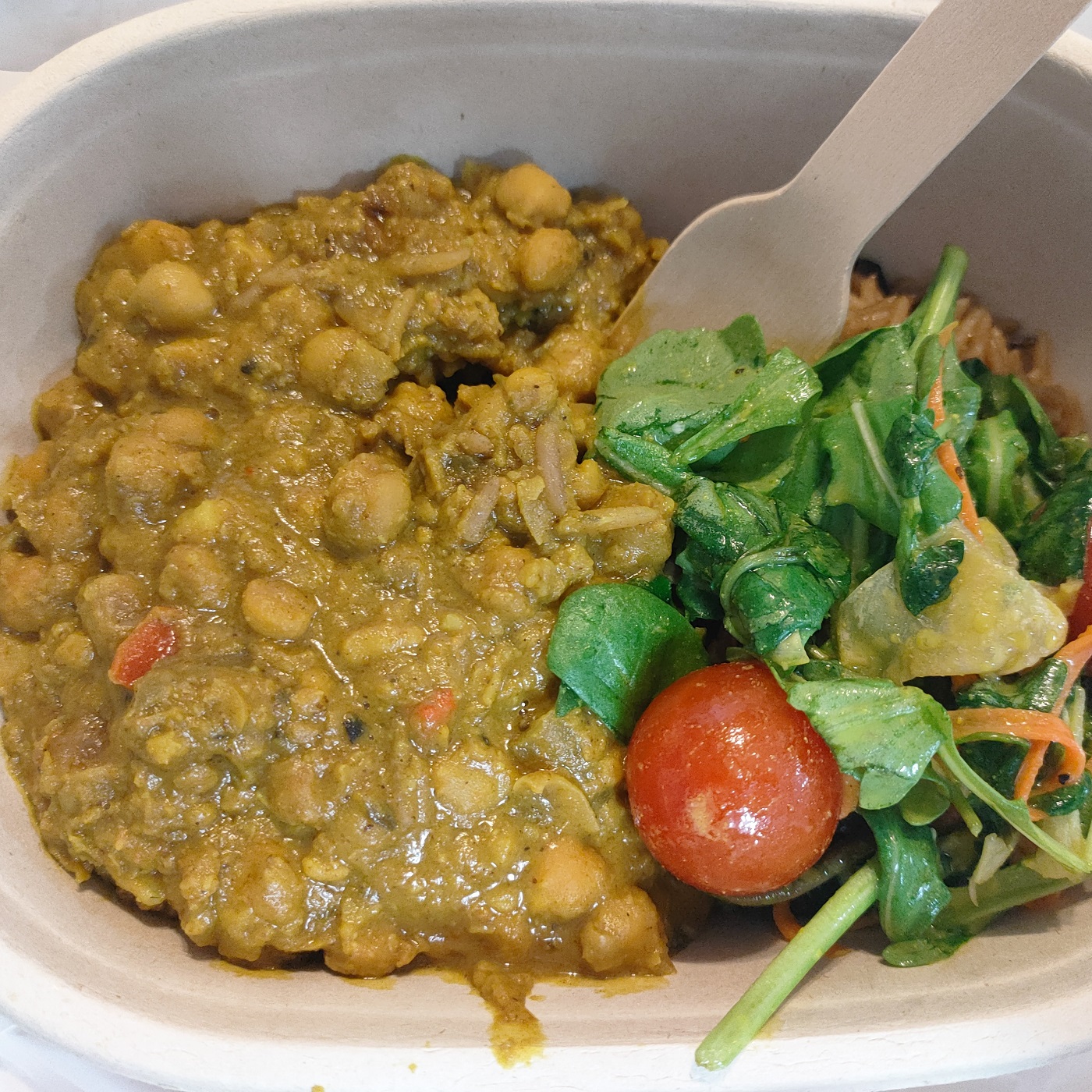 As you do in a heatwave, I'd been trying to cool off by feasting on a variety of Aldi's finest ices and by the afternoon had found myself hungry but way over-supplied with sugar.  I decided to forage along the high street and had discounted Pizza, Chinese and lunch at the café before I came to Carivegan.
Launched just over a year, it's selling point is simple – cruelty free Caribbean food.  I had eaten there previously and enjoyed it, but not for some time. Would anything have changed?
The short answer is no.  The premises is spotless (amazing for the high street), and still smells and looks good.  Their décor is light green and white with a bright purple sign and their seating (I know from previous visits) is both trendy and comfortable.
They've done a lot with a small narrow space. I've never been in there without being greeted in a friendly, casual manner.  There is no hard sell at all, you're just free to choose what you want.  There isn't a menu but counter staff will tell and show you what they've got.
Today was no exception and I opted for chickpea curry with rice and peas with a salad. Taking it back to the office I apologized in advance for the wafts of hot food that were starting to circulate and sat down to chomp my way through it.  Whilst I've never got back all the taste and smell I lost during covid, I was sure I could still enjoy this.
And oh did I!  Subtle, scented spices burrowed themselves into my tastebuds as the chickpeas melted in my mouth and the slightly sweet salad offset both the chickpeas and the rice perfectly.  I finished the generous portion to the last pea!
They do a variety of dishes and combinations of them. Currently on a Monday, you can get a brunch box and they change their menu regularly to try new things. On the menu previously have been dumplings, fritters, bulgur jollof, jackfruit curry, vegan cupcakes, cakes (they had some in today), patties, plantain, callaloo and even mac 'n cheese! They update their instagram regularly (
www.instagram.com/carivegan_cuisine
) so you can see what they have cooking and are also now on Deliveroo.
| | |
| --- | --- |
| Atmosphere and décor | 5/5 |
| Food | 5/5 |
| Range of food | 4/5 (the only thing missing is some fruit based recipes/ desserts) |
| Taste | 5/5 |
| Best food to try | Jackfruit curry, chickpea curry, fritters, cupcakes |
| Layout/space | 5/5 (what they've done in there is nothing short of miraculous) |
| Cleanliness | 5/5 |
| Friendliness | 5/5 |
| Number of visits | 5 |
| Last visit | August 2022 |
| Number of reviewers | 2 |
| Biggest surprise | The variety of dishes in such a small restaurant |
They are at 216b Selhurst Road, South Norwood, London SE25 6XU and their telephone number is 020 8771 6341.

-----------------------