"Lawn Tennis Championship - Won By A Norwood Lady.  After a very close struggle on Friday of last week, the ladies championship of England which Mrs. Sterry relinquished after winning it last year for the fifth time, was captured by Miss Boothby.  Her opponent was Miss Morton, runner up in 1908 to Mrs Sterry, who had beaten Miss Boothby in the previous round.  The championship carries with it several valuable gifts.  Miss D. Boothby resides at "Holmwood," 260, South Norwood-Hill." Norwood News, July 1909.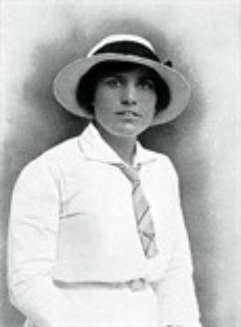 The weather in the spring and early summer of 1909 was awful in truly biblical proportions.  Local people corresponded with newspapers and talked of seeing nothing like it since '88.  There were damp foggy mornings, interspersed with gale force winds, hail, sleet and snow that settled.  Despite this the Wimbledon tennis tournament was completed, and successfully so for the South Norwood community as it learned from twelve lines half way down a column in an inner page in Norwood News.  The winner of the ladies singles was Dora Boothby of South Norwood
Penelope Dora Harvey Boothby was born in Finchley, Middlesex on August 1881. When their wealthy wool broker father died in Australia in December 1887 both Dora and her older sister Gertrude went to live with step parents, Harry and Gertrude Penn; the girls being related to their step father.  Initially their home was at 40, Harold Road and it was while here that Dora learned tennis at what she referred to as the 'dear old Harold Road Club.'
By 1901 Harry Penn's success as a civil engineer brought about a move upwards to 260, South Norwood Hill, and from her home here Dora frequently practiced at Beulah Hill Club. Her tennis flourished and she made her first appearance at Beckenham in 1900 winning the Handicap Singles; she had another success in the Mixed Doubles. Her outstanding talent won cups at Surbiton, Redhill, Chichester, Folkestone and Teignmouth.  At Lowestoft the cup became hers because she won it three times in a row.  She also held the coveted Queen's Club Covered Court Championship.
When asked about her fitness regime, Dora Boothby denied dieting or any kind of special training, claiming that 'life wouldn't be worth living under such conditions.'  She just used a 'little common sense about what to avoid and when to avoid it.'  Furthermore, she didn't train during the winter months.  She said that when the season was finished she exchanged her tennis racquet for that of a badminton one, which she played through the winter.  Dora did admit to initially suffering 'centre-courtitis', but said that "everyone who played did at first when the eyes of a great crowd where upon them."
Invited to comment about 1909 tournament she said, "Norwood was quite to the front at Wimbledon this year. Mr Ritchie who lived close by Grange Hill won the singles in the All Comer's Competition, but lost to Arthur Gore in the Challenge Round."  Josiah Ritchie was the runner-up to Arthur Gore in the men's final at Wimbledon that year.
It was further reported in Norwood News a week later that "Lady sportswomen are evidently as good comrades and friends as are those of the sterner sex.  Miss Boothby's enthusiastic delight in her game was sufficient, without her emphatic words, to show that the players have a good time and meet on the most friendly terms, while the Lady Champion was surprised at the great amount of interest taken in the game by the general public, and deeply touched by the shoal of congratulatory letters and telegrams that had reached her."
The final score of her 1909 winning match against Agnes Morton was 6-4, 4-6, 8-6.  She was again to make it through to the finals actually for the following two years.  Unfortunately she lost on both occasions to Dorothea Douglas Lambert Chambers, a formidably powerful, well trained opponent.  It was Dorothea Lambert Chambers who had denied Dora Boothby a gold medal in the 1908 Olympic final beating her 6-1, 7-5.
Although barely reported in the press in the early 20th century, Dora Boothby became a notable, indeed renowned badminton player.  She won the mixed doubles title at the All England Badminton Championships with Arthur Davis Prebble, a partner with whom she had been three times runner-up in the mixed doubles at Wimbledon in 1907, 1909 and 1912.
Dora Boothby married an architect, Arthur C. Geen, on 14th April 1914 at St Georges Church, Hanover Square.  In 1932 the London 'Times' newspaper carried news that Mrs Arthur Geen had decided to take up teaching lawn tennis as a profession.
Dora Geen died on 22nd February 1970 in Hammersmith, her death being registered at Kensington.  She was cremated after a private funeral service.
John Hickman, South Norwood, London.