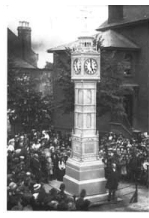 South Norwood is an urban town and in south London, England, in the London Borough of Croydon. It is a suburban development 7.8 miles south-east of Charing Cross. South Norwood is an electoral with a resident population in 2001 of just over 14,000. A tributary of the River Wandle, which rises in Merton, ends in South Norwood.
The south-eastern side of the town is dominated by the 125-acre (0.51 km2) country park which opened in 1989. At the other northern end of the town is South Norwood Lake, which was created after the reservoir for the unsuccessful Croydon Canal went out of use. It is used by the Croydon Sailing Club and local anglers who fish for carp, bream and perch.
William Ford Robinson Stanley  (2 February 1829 – 14 August 1909) was a British inventor with 78 patents filed in both the United Kingdom and the United States of America. He was an engineer who designed and made precision drawing and mathematical instruments, as well as surveying instruments and telescopes, manufactured by his company "William Ford Stanley and Co. Ltd."
A building facing potential demolition in South Norwood hides fascinating links with the British film industry. Few will be aware Henderson Film Laboratories in St Dunstan's Road had a hand in producing a huge number of British films for the big screen between the 1920s and the late 1960s.
Sir Arthur Ignatius Conan Doyle, DL ( 22 May 1859 – 7 July 1930 ) was a Scottish physician and writer, most noted for his stories about the detective Sherlock Holmes, which are generally considered a major innovation in the field of crime fiction, and for the adventures of Professor Challenger. He was a prolific writer whose other works include science fiction stories, historical novels, plays and romances, poetry, and non-fiction.
Coleridge-Taylor was born in 1875 in Holborn, London, to Alice Hare Martin, an English woman, and Dr Daniel Peter Hughes Taylor, a Sierra Leonean Creole. They were not married. He was named Samuel Coleridge Taylor. His surname was Taylor, and his middle name of Coleridge was after the poet Samuel Taylor Coleridge. His family called him Coleridge Taylor.
Brocks Fireworks, formally known as Brocks Explosives Ltd, was a well-known manufacturer of fireworks, founded in London and subsequently based in Hemel Hempstead, Dumfriesshire and Norfolk. The company was taken-over by its rival Standard Fireworks in 1988.
Brocks was founded in the early 18th century in Islington by John Brock and it is thought to have been the oldest British firework manufacturer.
Lawn Tennis Championship - Won By A Norwood Lady. After a very close struggle on Friday of last week, the ladies championship of England which Mrs. Sterry relinquished after winning it last year for the fifth time, was captured by Miss Boothby.  Her opponent was Miss Morton, runner up in 1908 to Mrs Sterry, who had beaten Miss Boothby in the previous round.  The championship carries with it several valuable gifts.  Miss D. Boothby resides at "Holmwood," 260, South Norwood-Hill. Norwood News, July 1909.